While Kristen & I were in Newfoundland in July we made time in our very short visit to go to Middle Brook, or by the locals "The Brooks" or sometimes simply called "The Swimmin' Brooks" Many many summer days were spent here as a child.
It begins with a shallow section called "steady" then you round the corner to a section a little deeper called "1st falls" (I swam here mostly) then up over those falls to "2nd & 3rd Falls" (see below)
The local boys (sometimes a few girls) would climp 3rd falls and jump to the depths below. But not before being taught by an already experienced (& generally older) local who's already done it a million times. It's almost like a small town tradition that's been passed along.
Then there's the super adventurous who would go even higher to the trees you see on the left. And off they jump!
Can you see him?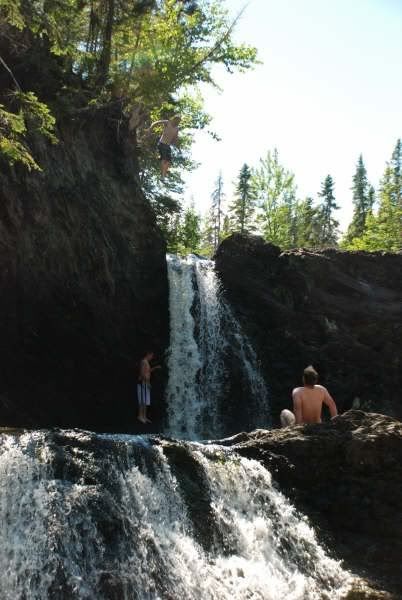 Yeah...I'm glad I didn't do this....brutal!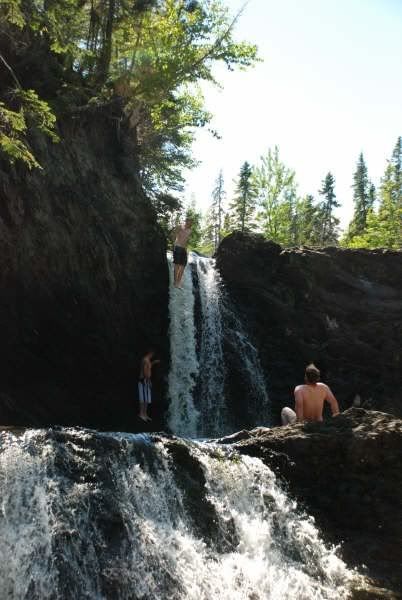 Here you can see, bottom is 2nd and top is 3rd....both are pretty deep which is why I didn't swim here a lot. Usually just observed. Another fact you must realize that there are sharp & jagged rocks/edges everywhere! There have been a few cuts and minor injuries but no serious ones to my knowledge.
Isn't it beautiful though? A friend of mine (who lives close to the brooks) was telling me how someone mentioned to her how nice it would be to have a pool....a pool!?!? Are you kidding me?! When you have THIS! I just wish people who live there could truly appreciate what they have.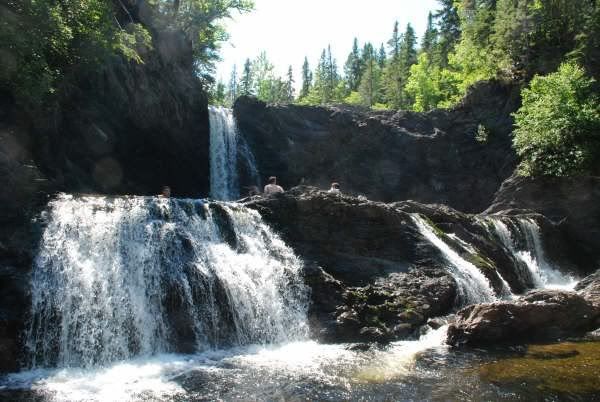 Here's Kristen at 1st Falls
There's also cottages RIGHT NEXT to the brooks called "
Middle Brook Cottages
" Kristen & I stayed in the honeymoon suite on our wedding night & it was very nice. Check it out if you're ever looking for accomodations in the area.
Sidenote: Today we go pick up our puppy!! Woo-hoo :)
And I finish with this quote:
"Life is full of beauty. Notice it. Notice the bumble bee, the small child, and the smiling faces. Smell the rain, feel the wind. Live your life to the fullest potential, and fight for your dreams" ~ Ashley Smith